December 2015 News
FIRST AWS GOLD CERTIFICATION
Inghams Enterprises, a leading Australian and New Zealand integrated poultry producer, has achieved gold level AWS certification for one of its major production plants.  The Somerville processing plant on the Mornington Peninsula (Victoria) is the second site in the world to achieve AWS certification and the first to achieve gold level.
AWS Chair and Secretary of Water Stewardship Australia (WSA), Michael Spencer, congratulated Inghams for achieving this milestone.  "The team at Somerville has worked consistently over time to improve water management and work with its community on water issues.  The plant provides a wonderful example of how industry and community can work collaboratively to address shared catchment challenges". Over the course of their water stewardship journey Inghams have received recognition for their efforts from government (Prime Minister's Water Prize) and customers (global leader on water in the McDonalds Sustainable Supply Chain awards).
One of the most innovative and exciting projects to have emerged from the Sustainable Somerville plan was the engagement of the community and other water users in the Westernport area.  Inghams partnered the Western Port Biosphere and WSA to initiate the Westernport Water Stewardship Project.  The initial focus was Watson Creek – once regarded as the dirtiest creek in Victoria.  The Western Port project has already engaged 10 new landholders and water users, including two schools, in water stewardship. To read the full press release please visit http://waterstewardship.org.au/wp-content/uploads/2015/11/WSA_Inghams-Certification_26.11.15.pdf
---
AWS LAUNCH EVENT HELD IN PAKISTAN
AWS was formally launched in Pakistan at a high profile event in Lahore in October, organized by our Founding Partners WWF and Nestle. The stimulus for this event was the implementation of the AWS Standard at Nestle's Sheikhupura site, close to Lahore. WWF-Pakistan has been supporting Nestle in this work for some time and there is now a clear plan to pursue AWS certification at the site. For information on the launch event please visit http://www.dailytimes.com.pk/punjab/28-Oct-2015/wwf-nestl-host-symposium-on-water-management
For more information on the need for water stewardship in Lahore, please see https://www.wwfpak.org/wsp/pdf/SAWRLSummary.pdf
As a result of the launch event our Executive Director Adrian Sym and WWF-Pakistan's Senior Manager Freshwater, Ali Hasnain Sayed, were interviewed on the influential national TV channel "Business Plus". This can be https://vimeo.com/144196583
Following the launch we held three days of training in Lahore for diverse audience (pictured), including Nestle staff from across Pakistan and professional service providers seeking AWS accreditation. Building a network of accredited service providers to support implementation of the AWS Standard in Pakistan is a critical next step.
---
INDIA AND SUSTAINABILITY STANDARDS CONFERENCE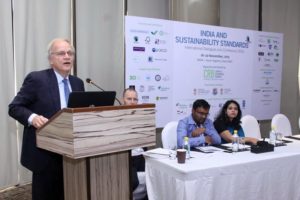 AWS organized a workshop at the India and Sustainability Standards Conference organized by our partner the Centre for Responsible Business (CRB). Titled "Water Stewardship in India: Leaders, Sectors and Clusters" the event explored how to leverage case studies to advance water stewardship in India. The Dutch Ambassador in India, the Honourable Alphonsus Stoelinga (pictured), opened the workshop which also included three case studies exemplifying how the AWS Standard has supported water stewardship in India. Jain Irrigation described their work to implement the Standard and achieve AWS certification at their site in Maharashtra; ITC described how the Standard had informed their integrated watershed development program, and; Hindustan Unilever Foundation (HUF) described the third project they have implemented with their local partners to understand how the AWS Standard can support community water stewardship, with an emphasis on governance development. HUF have produced a report on this work in Rajasthan which is available at this link.
A direct outcome of the workshop was a commitment to establish an India Water Stewardship Network. For more information on how to participate in this initiative, please get in touch at info@allianceforwaterstewardship.org
In partnership with CRB we delivered Foundations of Water Stewardship training in three Indian cities during September: Mumbai, Bengaluru and Tirupur. The trainings in Bengaluru and Tirupur had a particular focus on water stewardship within the textile sector. Tirupur accounts for 90% of India's cotton knitwear export, worth an estimated 220 Billion Indian Rupees, yet has experienced serious water challenges. The Tirupur Exporters Association were amongst the trainees in our Foundations of Water Stewardship Course.
Following the trainings in September Adrian also participated as a panellist in the Water Conclave organized by the Federation of Indian Chambers of Commerce and Industry.
---
NEWS FROM ASIA-PACIFIC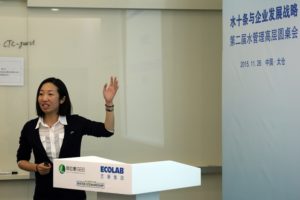 The 2nd CEO Water Stewardship Round Table was held in Taicang, China on 26th November.  AWS, together with our Partners Ecolab and Society of Entrepreneurs & Ecology (SEE) co-hosted the event.  Representatives from government, NGOs, academia and businesses shared views on water challenges in China, and how water stewardship can help business manage risks and seize opportunities.  Participants also visited the Ecolab's Taicang Plant (the first AWS certified site) with specific focus on site level water stewardship practice.  The next Round Table will be held in March next year.
Water Stewardship Australia has been invited to present to the WASH Reference Group of Australian Aid on how water stewardship can contribute to achieving WASH results.
Water Stewardship Australia held its AGM in November, in conjunction with an event to celebrate Ingham's AWS Gold Certification. More details at http://waterstewardship.org.au/
---
NEWS FROM NORTH AMERICA
AWS and the Water Council have signed an agreement to extend their partnership up to the end of 2017. This agreement will see the Water Council continue as AWS representative in North America and builds of a very successful collaboration over the last few years.
Our North America Director, Matt Howard, worked with partners from Arizona State University (ASU) and The Nature Conservancy to conduct a weeklong series of water stewardship events on the Tempe, Arizona campus of ASU which culminated in two days of AWS Training at ASU's Decision Center for a Desert City. Matt met with officials from The Nature Conservancy about future water trading programs in central Arizona, and officials from the Kyl Center for Water Policy, Walton Sustainability Solutions Initiative and the Sustainable Cities Network, among others, to discuss ASU's multi-faceted approach to addressing water challenges in the western U.S. states. Officials from the President's Office of ASU also hosted a public lecture mid-week where Matt introduced the AWS Standard to an audience of students, professors and water professionals and advocates.
The week of events culminated in AWS-North America's first official training program, delivering two days of AWS Training – Foundations of Water Stewardship and Advanced Training in the AWS Standard. Accompanying Matt in delivering the training were our AWS Technical Manager, Richard Robertson, and Mark McDermid, Manufacturing Specialist from the Wisconsin Manufacturing Extension Partnership (WMEP). AWS-North America awarded fourteen certificates of training to attendees from the NGO community, consultancies and other private sector organizations.
Matt is tentatively planning two more in-person training sessions in the first half of 2016. Check the AWS-North America website for more information on future training sessions or contact Matt directly by email.
AWS-North America's web content can now be accessed directly at www.awsnorthamerica.com. While content is still housed on The Water Council's website internet users can directly access valuable and timely information on the range of AWS activities taking place throughout North America. Water users can also start their water stewardship journey on the site with helpful links on tools and of course access to the AWS global network and AWS Standard.
You can also follow AWS-North America on Twitter at @WaterStewardNA and on Facebook at www.facebook.com/AWSNorthAmerica.
---
ECOLAB REPORT ON TAICANG PLANT'S AWS CERTIFICATION
Following the achievement of AWS certification at its manufacturing plant in Taicang, China, Ecolab have published a short summary report on the project. This report can be accessed at http://nalcochampion.ecolab.com/~/media/Ecolab/Ecolab%20Home/Documents/DocumentLibrary/CaseStudies/Sustainability/Taicang_Case_Study_final.ashx
---
WAPRO PROJECT
AWS is a partner in the Water Productivity Project (WAPRO) – a Swiss Development Cooperation-funded initiative to address water efficiency issues in rice and cotton production in Asia. Swiss NGO Helvetas Swiss Intercooperation is managing this project, with partners including Mars, Coop, Better Cotton Initiative, Sustainable Rice Platform We have already begun our role in this project through training and planning meetings in Pakistan, with additional trainings scheduled for Tajikistan in December and India in January. A brochure on the WAPRO project is available at http://www.sustainabilityxchange.info/filesagri/WAPRO_Factssheet_A4c.pdf
---
NEWS FROM SOUTHERN AFRICA
AWS has signed a Memorandum of Understanding (MoU) with Breede-Gouritz Catchment Management Agency and other partners GIZ, Marks & Spencer, Woolworths and WWF. Under the terms of the MoU partners have agreed to collaborate closely on joint activities including sanitation in two informal settlements around Prince Alfred Hamlet in the Ceres district of the Western Cape where the AWS Standard is being implemented by stone fruit farmers.  Partners will also collaborate on clearing invasive vegetation, testing the AWS online tool, identifying the value of the AWS Standard and sharing of lessons.
Responding to water risk issues within the agriculture sector, WWF South Africa has developed and launched a practical water stewardship web tool based on the AWS Standard. This interactive self-assessment website is intended for both commercial businesses and small-scale farmers who wish to improve their water usage and reduce their wider catchment-level impacts. More information at http://www.wwf.org.za/?15201/water-stewardship-web-tool
The South African Strategic Water Partners Network (SWPN), GIZ's International Water Stewardship Programme (IWaSP) and the South African National Business Initiative (NBI) hosted a regional learning workshop on water stewardship in October.  The workshop focused on knowledge sharing and learning from a number of water stewardship case studies that are on-going in the region. Mark shared the platform with Jeremy Dufour, Sustainability Manager for OLAM in Tanzania, to present their progress towards AWS certification at their Aviv coffee estate near Songea, Tanzania.  OLAM have been supported on their water stewardship learning journey by AWS, Water Witness International, and AWS-accredited service provider, and through GIZ's International Water Stewardship Programme (IWaSP). Olam and AWS have also published a summary report outlining the lessons learned in implementing the AWS Standard at the Aviv coffee estate. This report titled "Mitigating water risk and creating shared value" is avialble to download here.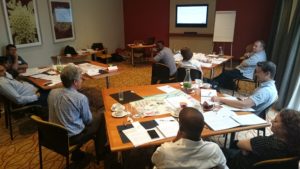 Our Regional Manager Mark Dent led the delivery of Foundation, Advanced and Specialist level training courses in Pretoria during October (pictured). The courses were attended by a good spread of delegates from top level government official dealing with emerging new policies on water stewardship, corporate sustainability managers, consultants, auditors and NGOs.
Mark has been invited to serve on a high level panel appointed by the South African Department of Water and Sanitation to consider the restructuring of institutions in the water realm under its jurisdiction. His input will cover the role of water stewardship in the emerging new dispensation.
Mark represented AWS on a discussion panel organised by Coca Cola South Africa, the Mail & Guardian and the National Department of Water and Sanitation.   Mark spoke alongside the Deputy Director General of the Department of Water Affairs, the Chief Executive Officer of the National Business Initiative;  Chief Executive Officer of the Water Research Commission and the Founder of the Vaal Environment Justice Movement, SA  Water Caucus. The title of the discussion was "The role of Government, Industry and Community Partnerships in Water Stewardship: securing our shared water future". More information at http://sandtonchronicle.co.za/136869/government-industry-and-civil-society-hosts-discussion-around-water-crisis/
---
NEW AWS ACCREDITATIONS
Water Witness International and Exova BM Trada are the latest specialist service providers to gain AWS interim accreditation to support the implementation and assessment of the AWS Standard. A full list of AWS-Accredited organizations and relevant service areas can be found at http://allianceforwaterstewardship.org/verification.html#aws-accredited-organizations.
---
AWS INTRODUCTORY MEMBERSHIP
We are continuing to reach out to leading organizations to participate in our "Introductory Membership" program. Introductory Membership is the first phase of AWS membership and will last up to the end of 2016. Organizations joining AWS as introductory members will participate in the design of a long-term membership package to be implemented from 2017. Joining AWS as an Introductory Member will provide the opportunity to
–       Promote your organization's support for responsible use of freshwater
–       Help shape the technical development of the AWS system, including the AWS Standard, verification system and accreditation program.
–       Participate in shaping AWS governance and organizational structures
–       Build partnerships with other leading organizations
For more information and to download an application form, please visit our site.
---
REGISTER YOUR SITES FOR AWS CERTIFICATION AND SELF-ASSESSMENT
AWS now has an electronic form for all applicants to register their sites for certification or self-verification. Site registration is essential for anyone wishing to get AWS Certified or undertake self-verification and make claims about their conformity with the AWS Standard. The site registration form can be downloaded at either http://allianceforwaterstewardship.org/verification.html#self-verification or http://allianceforwaterstewardship.org/verification.html#certification
Following completion of the site registration form a Registration Number which can be used to engage any AWS interim accredited Certification Assessment Body (CAB).  CAB's may only engage with an implementer who has been registered with AWS.
For self-verification an administration fee is applicable to cover the costs of processing applications; reviewing self-assessments for completeness and publication of the declaration of compliance.  The fee is set at GBP500 for the first year and GBP300 for the two subsequent years.  Beyond the third year, self-verification is not possible and the implementer will have to progress to full certification if they wish to continue to declare conformity with the AWS Standard.  AWS does not charge a fee for those who wish to register in order to engage a CAB.
---
UP-COMING EVENTS
The next AWS training in China will be held from 17th to 19th by AWS and Water Stewardship Australia in Nanjing.  In January, 2016, another 2-day session will be offered by AWS and Bureau Veritas (accredited trainer) in Shanghai.  For more information, please contact  Zhenzhen Xu by email.
Taihu Basin Governance 2.0 – The First International Forum for Taihu Basin Stewardship, organized by WWF and Jiangsu Engineering Consulting Center: 21-22nd December, Wuxi City, China.  Mr. Michael Spencer (AWS Chair) will present on the first day.
Training for service providers seeking AWS accreditation is planned for Pakistan in February 2016.