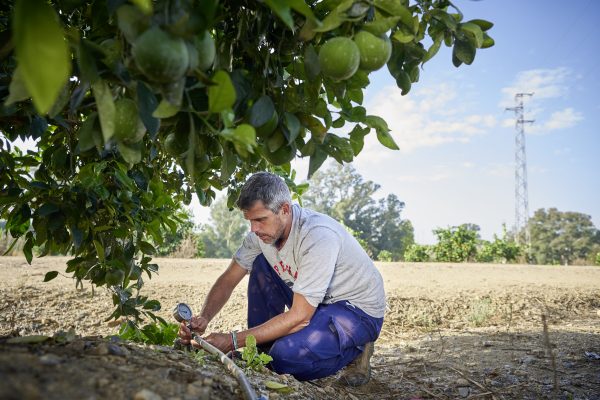 First European Gold Certification with AWS
Iberesparragal, a citrus grower in Spain, has become the first European farm to receive a Gold Certification under the AWS Standard.
Another great water stewardship story has emerged with Iberesparragal, an orange grower in Spain becoming the first in Europe to receive Gold Certification under AWS. Iberesparragal produces citrus fruits for EDEKA and Netto Marken-Discount, two German supermarkets. Through a partnership with WWF and with implementation support from Good Stuff International, they have undertaken a project to substantially reduce their water and pesticide use, increase biodiversity across the farm and support improved water management practices throughout the catchment by encouraging other water users to implement water stewardship.
The farm sits in the catchment of the Guadalquivir river, near Sevilla. The catchment suffers from drought, with climate change likely to worsen the situation. In addition to the drought, overexploitation and more than 1,000 illegal wells are also responsible for the fact that the groundwater levels in Andalusia's heavily used agricultural zone have been sinking for years. The Coto de Doñana National Park is located at the end of the river basin and is one of the few remaining biodiversity hotspots in the area. The sinking groundwater level has already left its mark on the park.
Through implementing the AWS Standard, Iberesparragal developed a thorough understanding of their water risks, built upon a strengthened awareness of the local water context within which they operate. This led to the farm increasing their understanding of their own water use and its impacts on the catchment, which in turn encouraged them to engage outside of their own farm with other local stakeholders, a vital component of the AWS Standard.
Prior to undertaking AWS Standard Certification, Iberesparragal had already implemented several site-based activities which have not only significantly reduced their water use but also increased biodiversity on the farm, bringing a range of benefits to both nature and the business. As with all sites implementing the AWS Standard, Iberesparragal have built on this experience and now engage beyond their own boundaries to encourage other water uses to implement the principles of AWS and to support good water governance practices locally.
Iberesparragal is only the third recipient of a Gold certification since the AWS Standard was launched, demonstrating the strong commitment those involved with the project had to driving positive change. Rolf Lange, Head of Corporate Communications at EDEKA commented: "We are pleased that our pilot farm Iberesparragal was the first European farmer to be successfully AWS certified and in gold. EDEKA and Netto Marken-Discount are the first food retailers in Germany to systematically reduce water risks with the AWS standard."
Johannes Schmiester, water expert at WWF Germany adds: "Water risks are increasingly becoming an economic problem in the food sector, as the recent drought in Cape Town shows. Cooperation in river basins and along the supply chain can significantly reduce risks. The German food retail industry has a high responsibility to play an active role in shaping this process."
Adrian Sym, CEO of Alliance for Water Stewardship, underlines: "EDEKA's commitment to sustainable water management with suppliers is a model for how supermarkets can actively address water use in supply regions. This first AWS certification of an agricultural enterprise in Europe was made possible through good cooperation and mutual learning between partners and will help in scaling adoption of AWS certification.