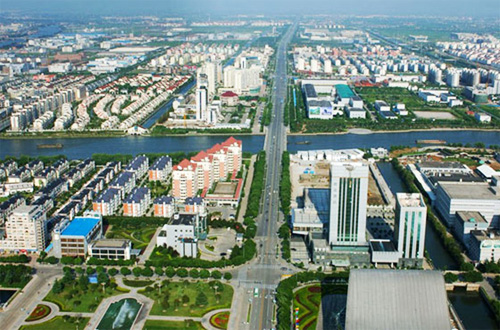 First Municipal Incentive for AWS Certification
In an landmark development for the growth of water stewardship internationally, a Chinese municipal authority has offered an incentive payment for companies to adopt and be certified against the AWS Water Stewardship Standard.
Kunshan, a city that has occupied top spot on the Forbes list of Best Business Cities in mainland China for seven consecutive years, is offering RMB100,000 to companies that can achieve compliance with the AWS Standard.  The incentive is part of a package of measures outlined by the City to address water pollution challenges and respond to National Government initiatives to clean-up China's air and water and create a "Beautiful China".
Kunshan is a country-level city of 1.6 million people situated in eastern Suzhou Prefecture in south eastern Jiansu Province in eastern China, between Suzhou proper and Shangai. Kunshan is an important city in China and a major centre for the micro-electronics industry.  AWS has been working with WWF China and the Kunshan Environment Protection Bureau for the past year to help major polluters improve their water management performance and achieve best practice.  WWF China has been an important partner in building this relationship.
AWS Asia-Pacific CEO Michael Spencer said: "While governments have supported AWS work with companies in the past, this is the first time a government agency has offered an incentive for AWS certification.  This has the potential to be a game-changer for water stewardship by considerably improving the business case. We expect other agencies will follow not just in China but internationally.  It recognises that good water stewards are contributing to broader social and ecological goals as well as gaining private benefits.  In a sense, it is a form of gain sharing for improvement in a community's natural capital."
The AWS Industrial Parks project is supported by the Australian Government through the Australian Water Partnership.